Jazz in Reading
Jazz in Reading is a not-for-profit association of six 'nuts'  who share a passion for jazz and seek to promote the best of live jazz with the presentation of regular concerts under the banner Jazz at Progress  in the convivial surroundings of Reading's Progress Theatre, and by publicising jazz events across the Thames Valley on the Jazz in Reading website.  
The 96-seat Progress Theatre has a special atmosphere, with excellent sound and lighting, is fully-accessible, has car parking and a well-stocked bar. Directions here
Progress is beloved of audiences and musicians alike. Since 2012 it has staged a broad range of jazz styles with the remarkable instrumental and vocal talents of such great artists in British and International jazz as Greg Abate, Brandon Allen, Gilad Atzmon, Alan Barnes, Chris Biscoe, Christian Brewer, Darius Brubeck, John Etheridge, Ethan Everson, Steve Fishwick, Alex Garnett,  Ray Gelato, Gabriel Garrick, Arun Ghosh, Leon Greening, Stuart Henderson, Henry Lowther, Tony Kofi, Georgia Mancio, Claire Martin, Derek Nash, Alison Neale, Nigel Price, Rebecca Poole (aka Purdy), Orphy Robinson MBE, Karen Sharp, Martin Shaw, Andy Sheppard, Gwilym Simcock, Art Themen, Jean Toussaint, Matt Wates and Byron Wallen. 
'Progress audiences listen,' commented one musician who regularly plays at London's top jazz spots such as Ronnie Scott's. Multi-instrumentalist Ben Holder said, 'It's a great venue. We had a blast. Brill audience!' 
Jazz at Progress is also proud to support the emerging talents of young musicians such as Xhosa Cole, BBC Young Jazz Musician of 2018, Tom Smith, a 2014 and 2016 finalist in the BBC Young Jazz Musician Competition, Alex Hitchcock and Jonny Mansfield, winner of the 2018 Kenny Wheeler Jazz Award. 
The Jazz in Reading website carries details of all Jazz at Progress concerts as well as a Gig Calendar  which reflects the vibrant local jazz scene with its comprehensive listing of where and when jazz can be enjoyed across the Thames Valley.
The Jazz in Reading team aim 'to make it happen' and look forward to seeing you at a future event.
Why not check-out https://www.jazzinreading.com and add your name to the e-mailing list so that you can regularly receive updates on Jazz in Reading events.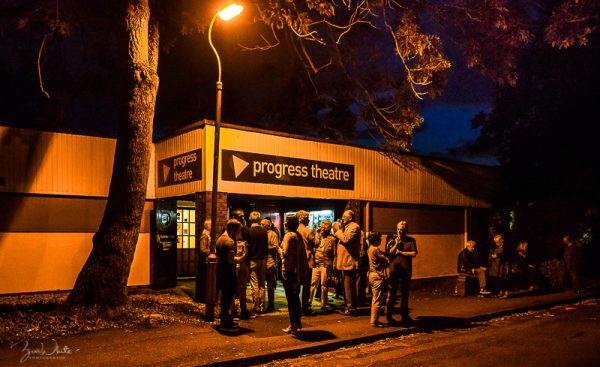 Jazz lovers in the interval break at the Progress – photo by Zoë White
What's on at Jazz in Reading